Fermented Sesame Slaw Summer Rolls
Rice Paper Sheets
Cooked Vermicelli Noodles
Shredded Carrots
Cucumber
Tofu
Avocado
Chi Kitchen Fermented Sesame Slaw
Basil
Prepare Ingredients:
Shred your carrots using a grater, or very thinly slice with a knife.
Slice cucumber and avocado into long, thin strips.
Cook vermicelli noodles in boiling water following directions on the package until soft, then set aside to cool.
Slice tofu into long, thin strips. For extra flavor, soak in a bowl or pan fry tofu strips in tamari or soy sauce for at least 30 minutes, then set aside.
Pick basil leaves from stem, and set aside.
Wet your rice paper sheets until it turns malleable and easy to work with.
Making Summer Rolls:
Lay your wet rice paper sheet flat on a plate, then begin to assemble.
Lay down a few basil leaves towards the bottom of the rice paper sheet, then a small helping of Vermicelli Noodles, then some shredded carrots, 2 tofu slices, 2-3 cucumber slices, 2 avocado slices, and a spoonful or 2 of Chi Kitchen's Fermented Sesame Slaw.
Then slowly take the bottom of the rice paper sheet and fold it over the ingredients until it hugs the other end of the ingredients. Then fold the sides of the rice paper sheet inwards, over the ingredients until it looks like a half-rolled burrito. Then finish rolling the ingredients upwards until it become a fully-formed roll.
Cut rolls in half if desired for snacking.
Dip in homemade or store-bought peanut sauce. We love this recipe from Delish!
Eat up and Enjoy!
Follow along with our delicious recipes and bring Chi Kitchen to your kitchen!
Recipe and photo created by Chef David Rivoli
Read More »
Looking to save time with meal-prepping? Look no further! This 10-minute noodle salad recipe is delicious, nutritious and a time-saver! It's full of gut-healthy probiotics
Read More »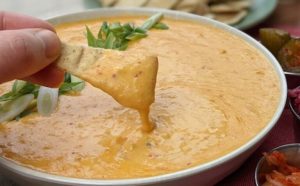 Vegans rejoice! This creamy and savory queso dip is made even better with the addition of garlicky and spicy vegan kimchi. It's amazing served with
Read More »
Find
Chi Kitchen
In-Stores