Vegan Kimchi Pancake Tostadas
Pancakes:
1 cup Chi Kitchen Vegan Kimchi, Chopped
½ cup All-Purpose Flour
½ cup Cornstarch
1 tsp Sugar
2 tsp Sea Salt
1 Red Onion, sliced (you can use white onion if making traditional pancakes)
5 Scallions, sliced
½ cup Water
1 tsp Gochujang (optional)
3 Medium Cobs of Corn
Refried Beans:
15.25 oz can of Black Beans
1 tsp Cayenne
1 tsp Garlic Powder
½ tsp Onion Powder
½ tsp Cumin
½ tsp Oregano
½ tsp Cinnamon
Salt to taste
Pico de Gallo:
1 Medium Tomato, Diced
1 Medium Red Onion, Diced
2 Garlic Cloves, minced
¼ cup Cilantro, chopped
¼ cup Lime Juice
½ cup Apple Cider Vinegar
Salt and Pepper to taste
1. Make Pico de Gallo by combining all ingredients in a container, seal and let sit in the refrigerator for at least 1 hour.
2. Combine Kimchi Pancake ingredients in a bowl and let rest for at least 7 minutes before pan-frying on a skillet on Medium-Heat with Vegetable Oil for 2-3 minutes on each side, set aside.
3. Pour black beans in a saucepan with your spices, cook on medium heat until thickened.
4. On stovetop on high heat, roast corn by gradually turning on each side until blackened throughout. If you don't have an open flame you can brush oil on your cobs and roast in a 425F oven for 20-25 minutes.
5. Layer Tostadas first with Pancake, then Beans, Corn, and Pico de Gallo.
6. Eat up and enjoy!
Follow along with our delicious recipes and bring Chi Kitchen to your kitchen!
Looking to save time with meal-prepping? Look no further! This 10-minute noodle salad recipe is delicious, nutritious and a time-saver! It's full of gut-healthy probiotics
Read More »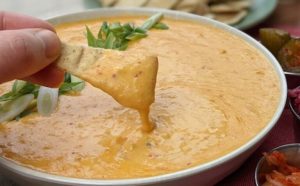 Vegans rejoice! This creamy and savory queso dip is made even better with the addition of garlicky and spicy vegan kimchi. It's amazing served with
Read More »
Find
Chi Kitchen
In-Stores